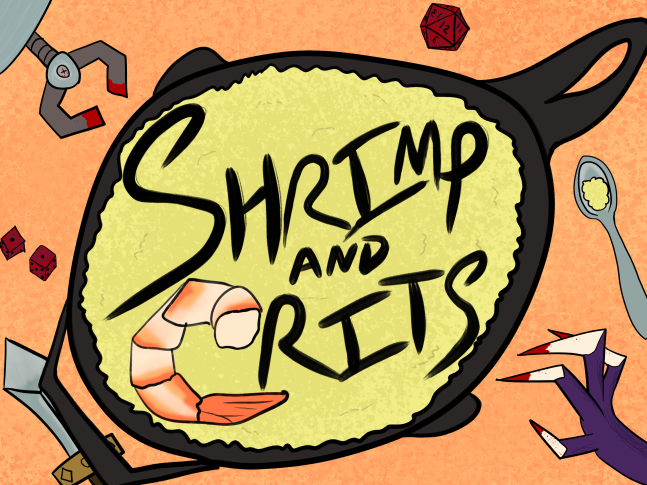 Episodes
Info
In the balmy swamps of the Florida panhandle, monsters and mystery lurk behind every moss-draped tree and stone. Shrimp & Crits is an actual play podcast utilizing the "Powered by the Apocalypse" gaming system. Our story takes place in the small coastal town of Gullacochica. Here, tourists and locals enjoy clean sprawling beaches, fresh-caught fare, and a wide variety of small family owned businesses.
Following the stories of local businessman Raymon "Ray Ray" Lareaux, greenhorn Deputy Sara Payne, and the mysterious Agent Ari Green, Shrimp & Crits will take you deeper and deeper into the twisted southern nightmare that only our Keeper can predict.
Shrimp 'N' Grits
(In case you were looking for a Shrimp 'N' Grits recipe!)
The Grits
2 cups quick grits
2 cups milk
2 cups water
1 cup sour cream
1/3 lb. butter
2 tbsp. salt
1 tbsp. pepper
In a pot, bring water and milk to boil. Add grits. Let boil for 10 minutes. Bring to simmer and add butter, sour cream, salt and pepper. Stir in until butter is melted and grits are smooth.
Shrimp Mixture
1 lb. peeled shrimp
1/2 lb. Andouille sausage (sliced)
3 stalks celery (chopped)
1 medium yellow onion (chopped)
1 green pepper (chopped)
3 garlic cloves (chopped)
2 cans of diced tomatoes in juice (Drain 1 can)
1 lemmon (Juice)
1 tbsp. white cooking wine
1 tbsp. Worcestershire sauce
1 tbsp. of hot suace (Chrystal or Louisiana prefered)
2 tbsp. olive oil
1 tbsp. dill
1 tbsp. italian seasoning
1 tbsp. pepper
1 bay leaf
salt to taste
In a large skillet or sauce pan, add oil and heat. Add garlic, celery, onion, and peppers. Saute until onions appear fluorescent. Add sausage and sautee for 2 minutes. Add shrimp and all spices. Saute until shrimp appears pink. Add the rest of the ingredients and let simmer for 5 minutes. Enjoy!